Boogaloo movement is an anti-government, political extremist movement in the United States that started off on as a racist, white supremacist internet meme on 4chan. Boogaloo boys or boogaloo bois (the name they call themselves) are preparing for a second civil war in the United States which they call the boogaloo. Boogaloo members are often heavily armed and can be identified by their military fatigues and Hawaiian shirts. Boogaloo dorks have also used other imagery popular among the far-right such as the Pepe the Frog meme.
ABOUT THE BOOGALOO MOVEMENT
Boogaloo got its start on 4chan, an imageboard website that is known for offensive and illegal postings. The term boogaloo alludes to the 1984 movie sequel Breakin' 2: Electric Boogaloo. On 4chan's /k/ board, the term boogaloo can be traced back as far as 2012 where it was often accompanied by references to "racewar" and "dotr". "Dotr" or "day of the rope" is a reference to the neo-Nazi fantasy of the mass murdering of "race traitors". The term then spread to other platforms like Facebook, Redditt, Twitter, and so on. The meme was also popular as early as 2013 on Iron March, a fascist and neo-Nazi online forum. Iron March is also the birthplace of the international neo-Nazi terrorist organization, Atomwaffen Division.
Boogaloo adherents use the term boogaloo to refer to a future civil war and violent uprising against the federal government and police, often in anticipation of the government taking away their guns. Adherents also use phonetically similar words to avoid getting flagged on social media such as boog, boojahideen, bungalow, big igloo, blue igloo, and big luau. Members believe in accelerationism, supporting any action that they believe will speed up the process of the impending civil war, for example infiltrating Black Lives Matter organizing so they can push their violent confrontations with cops. Boogaloo member Aaron Swenson of Texarkana, live-streamed on Facebook his failed plot to assassinate cops.
Boogaloo boys can usually be identified by their cheap Hawaiian shirts and military fatigues. The boogaloo movement has also used other imagery popular among the far-right such as the Pepe the Frog meme. These dweebs are also known to carry their own flag, which often presents itself as a modification of the racist "blue line" flag.
Boogaloo boys are not welcome. Keep boogaloo boys out of your spaces!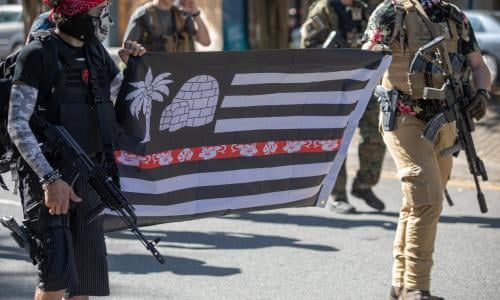 BOOGALOO MARTYR & PEDOPHILE DUNCAN LEMP
On March 12, 2020, Duncan Lemp, a boogaloo Facebook group leader, was fatally shot by police in a no-knock raid of his home in Potomac, Maryland. Police had obtained a no-knock search warrant based on a tip that Lemp was violating a restriction from possessing firearms. Lemp's family claims he was sleeping when he was shot and murdered by cops. Lemp then became an instant martyr for boogaloo members. An OSINT deep-dive into Boogaloo Boy martyr Duncan Lemp uncovered he also had a thing for following underage thirst trap and neo-Nazi accounts on Tiktok. Lemp is just one of many boogaloo adherents who have turned out to be pedophiles.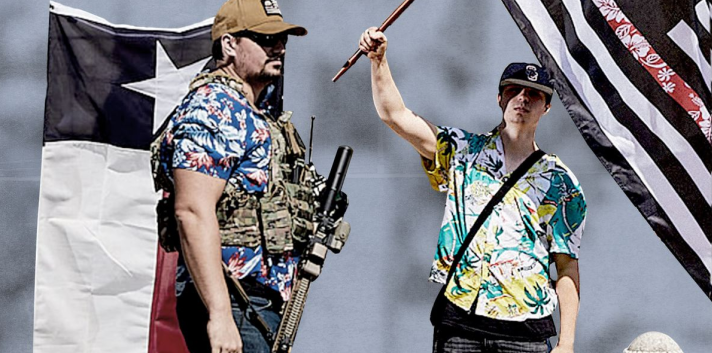 BOOGALOO INCIDENTS IN THE UNITED STATES
Since 2019, more than 30 people affiliated with the boogaloo movement have been charged with crimes, including a plot to kidnap Michigan Governor Gretchen Whitmer, plotting to bomb a power substation, offering support to Hamas, plotting to murder cops, and the storming of the U.S. Capitol building.
BOOGALOO MEMBERS USING PROTESTS AS A COVER TO INCITE VIOLENCE
Three men with ties to the United States military and who identified as boogaloo members were arrested May 30, 2020 on terrorism charges in Las Vegas, Nevada. The men had been plotting since April to bomb an electrical substation, but decided to use the George Floyd protests as cover to incite violence instead. They were arrested and each charged with the federal crimes of conspiracy to damage and destroy by fire and explosive, and possession of unregistered firearms. They were also accused in state court of felony conspiracy, terrorism, and possession of explosives. Each of the three men had ties to the military: one was a Navy veteran, another was an Army reservist, and the third was an Air Force veteran. Parshall kept his Facebook friends list wide open and it was archived here.
On June 5, 2020, two men wearing Hawaiian shirts were arrested in Richland County, South Carolina, for attempting to incite a riot at a George Floyd protest. One of the men also had boogaloo morale patches and a boogaloo flag, and the other had two handguns and two long guns. The men arrested were Kevin Ackley, 22, and Joshua Barnard, 24. Kevin Ackley was an EMS worker for Richland County. About a week later, Joshua Barnard was again arrested and charged with 11 counts of 3rd degree sexual exploitation of a child.
BOOGALOO MEMBER MURDERS COPS IN CALIFORNIA
United States Air Force sergeant Steven Carrillo was charged with murdering a Santa Cruz County deputy and a federal security guard in Oakland. The murders took place on June 6, 2020 and May 29, 2020. He had actually met up with another man, Robert Justus Jr., in late May and discussed how to use the ongoing Black Lives Matter protests to further the boogaloo cause. The next day, the pair drove to Oakland, California and staked out a federal courthouse with two guards outside. With Justus at the wheel, they then drove by while Carrillo open fired, murdering one security guard and wounding the other. Eight days later, Carillo ambushed sheriff's deputies that had been dispatched to his house with the same rifle he had used in the Oakland murder. One deputy was killed and the other wounded. He wrote phrases like "BOOG" and "I became unreasonable" in his own blood on the hood of the vehicle before he was arrested.
BOOGALOO BOYS OFFER SUPPORT TO HAMAS
On September 4, 2020, the Attorney's Office for the District of Minnesota filed terrorism charges against two men who identified as "boogaloo bois" for allegedly attempting to offer their services as mercenaries to an undercover FBI agent they thought was a senior member of Hamas. The men had also allegedly discussed attacking various targets, including police, white supremacists, government officials and monuments, as well as murdering members of the media. The two men charged are Michael Robert Solomon, 30, of New Brighton, Minnesota and Benjamin Ryan Teeter, 22, of Hampstead, North Carolina. They are both charged with Conspiring and attempting to provide material support to a designated foreign terrorist organization (Hamas). Teeter plead guilty to the charges.
PLOT TO KIDNAP MICHIGAN GOVERNOR GRETCHEN WHITMER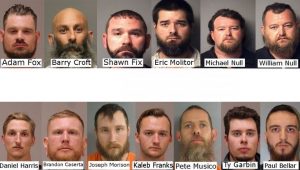 On October 8, 2020, a federal indictment was unsealed charging six men in Michigan with plotting to kidnap Michigan Governor Gretchen Whitmer and violently overthrow the state government. An additional seven men were charged with state crimes in relation to the plot. The seven men charged at the state level had been training with firearms and doing tactical drills to "prepare for the boogaloo". The leader of the group was known as "Boogaloo Bunyan". The men had been radicalized online following the statewide lockdown as a part of an effort to mitigate the spread of the COVID-19 pandemic.
BOOGALOO PRESENCE AT THE STORMING OF THE U.S. CAPITOL
Supporters of the boogaloo movement, among others such as the Proud Boys, were present at the storming of the U.S. Capitol on January 6, 2021. After breaching multiple police perimeters, these groups occupied and vandalized the Capitol building for several hours. Supporters also echoed themes associated with and used related terminology to express their readiness for "the boogaloo".
BOOGALOO INCIDENTS IN TEXAS
On June 13, 2020, Dallas area man Philip Archibald, the 29-year-old bodybuilder behind the armed effort to reopen Texas, was arrested on steroids'-related drug charges when he tried to send steroids through the mail. Apparently, Archibald had been running a steroid distribution ring right out of his Lancaster, Texas home. This boogaloo dork had even been posting on social media about using "guerrilla warfare" against members of the National Guard deployed at George Floyd protests, committing violence against looters, and "hunting Antifa". A search of his house found more steroids and multiple firearms. A self-proclaimed "boogaloo activist" he also led efforts to reopen failed Texas Senate candidate Shelley Luther's salon.
Shelley Luther in Denton with Boogs
Shelley Luther is well-known for two things: ignoring an order and then going to jail on purpose to reopen her Dallas hair salon in the wake of the COVID-19 pandemic…and hiring boogaloo bodyguards. Luther, who defiantly tore up the temporary restraining order issued to her by a Dallas judge, refused to apologize for her actions which landed her in jail. The Dallas judge is quoted as telling the salon owner, Shelley Luther, "Your actions were selfish, putting your own interests ahead of those of the community in which you live." On August 22, 2020 Luther announced her bid to run for a Senate seat in Denton, Texas at a pro-cop rally with boogaloo boys standing guard. "Out of the 31 districts, for the Senate seat to open up where I live … you'd better bet I'm putting my hat in the ring." Luther showed up with armed boogaloo members acting as her own personal bodyguards to make her announcement. Members of the extremist militia, Oath Keepers, were also present at the rally. She lost the election.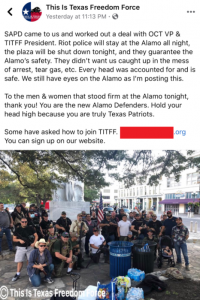 On May 30, 2020, members of the boogaloo movement, This Is Texas Freedom Force, Proud Boy owned and operated Open Carry Texas (OCT), and San Antonio cops worked together against protesters during a George Floyd protest. This fact was learned after This Is Texas Freedom Force (TITFF) posted on their since-deleted Facebook page a group photo with the description, "SAPD came to us and worked out a deal with OCT VP & TITFF President." TITFF posted on Facebook numerous photos of the groups and San Antonio police working together at the protest. In January 2020, This Is Texas Freedom Force's president, Brandon Burkhart, threw a childish fit when an FBI affidavit called them an extremist militia after one of their members, Guy Reffitt of Wylie, Texas, stormed the U.S. Capitol in Washington, DC. Reffitt threatened to shoot his family if they turned him in. This Is Texas Freedom Force, Open Carry Texas, boogaloo participants, and cops each have a long history of racism and neo-Nazi ties. Open Carry Texas founder and CenTex Proud Boy, CJ Grisham, has claimed he is a national socialist (Nazi).
On April 11, 2020, Texarkana man Aaron Swenson was arrested after live-streaming on Facebook a plot to murder cops. In the live video he stated he was driving around looking for police to ambush. After a high-speed chase, he was apprehended and found to be wearing a bulletproof vest and carrying loaded firearms and ammunition. Swenson had shared boogaloo memes on his Facebook page and other boogaloo adherents watched and commented on his live-stream. 
SUMMARY
Boogaloo movement is a loosely-organized, anti-government movement in the United States that started off as a racist, white supremacist internet meme. The extremist political movement often presents itself as a militia. Boogaloo boys are preparing for a United States second civil war which they call the boogaloo. They have a history of trying to infiltrate movements and cause violence when they believe it will accelerate their cause. Boogaloo members can often be identified by their military fatigues and Hawaiian shirts. They also are known to use the racist Pepe the Frog meme to identify each other.
Boogaloo boys are not welcome. Keep boogaloo boys out of your spaces!
Be sure to also check out: