Guy Reffitt, a 48-year-old man from Wylie, Texas told his family he'd shoot them if they turned him in for storming the U.S. Capitol. Reffitt traveled to Washington DC with a handgun "to protect the country."
SEE MORE US CAPITOL SIEGE FASCISTS HERE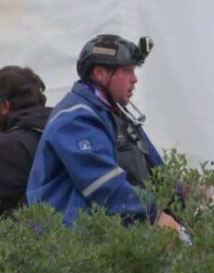 GUY REFFITT OF WYLIE, TX STORMED THE CAPITOL, THREATENED TO SHOOT HIS FAMILY IF THEY TOLD ANYONE
As disclosed in an FBI affidavit, Reffitt told his family upon his return from Washington DC that he needed to "erase everything" from his camera and social media because he believed the FBI was watching him. He then threatened his family members to not turn him in, calling them "traitors" if they did and that "traitors get shot."
The affidavit also discloses that Reffitt is a member of the extremist militia This Is Texas Freedom Force, and that he identifies as a 3%er. The FBI described Reffitt as a militia extremist:

A recent post made from Reffitt's account on the Proud Boy-owned social media site FreedomLake backs up the claim that Reffitt was associated with This Is Texas Freedom Force. The extremist militia, This Is Texas Freedom Force, said he joined in June of 2020. Guy Reffitt also liked the page Open Carry Texas, an organization also founded and owned by CenTex Proud Boy CJ Grisham: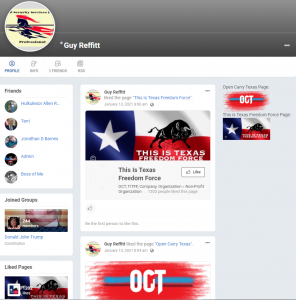 Footage from the Capitol siege shows Reffitt standing outside the Capitol building wearing a helmet and GoPro-style camera mounted on top of it.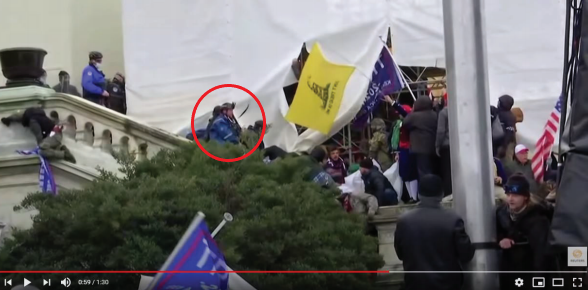 Reffitt was arrested for charges of obstruction of justice, unlawful entry, and obstruction of an official proceeding and aiding and abetting. Further charges may come. He was being held at the Fannin County Jail as of last weekend.
Growing List of Publicly Identified US CAPITOL SIEGE FASCISTS